Valsad Surgical Mission Debrief
During a recent surgical mission trip to Valsad, India, Operation Medical was able to perform 216 free surgeries, changing the lives of not only the patients served, but also the Operation Medical volunteers and the staff of Kasturba Hospital, our surgical camp sponsors and hosts. Speaking at a recent meeting of the Board of Directors of Operation Medical, President Mukul Parikh noted that "This was a wonderful mission by any standards. One of the best trips I have been on in terms of the number of participants, chemistry of the group, and the organization of the hospital we visited." Preparation for this camp started in early 2013 and showed the true meaning of collaboration between teams of people coming together to accomplish a common goal.
Valsad and Kasturba Hospital
The city of Valsad (also commonly referred to as Bulsar) is located within the Western Indian state of Gujarat. It lies along the coast of the Arabian Sea and is 120 miles north of the Mumbai airport. According to the 2011 census survey conducted by the Census Organization of India, Valsad had a population of 114,987.
Kasturba Hospital is the largest hospital in Valsad. The hospital does not receive help of any kind, nor financial aid from the government, and survives solely on donations. Much like Operation Medical, the Kasturba Hospital is committed to promoting and providing high quality medical care and education to their community.
Mission Details and Participants
The 6-day camp was held at Kasturba Hospital from January 19 through January 24, 2014. A total of 216 procedures were performed on patients ranging in age from 6 months to 75 years. The average case load each day during the camp was 36, utilizing 6 operating stations in 4 operating rooms. The staff at Kasturba and our volunteers worked together like a well-oiled machine. Our 216 cases included 16 ENT, 39 Plastics, 50 OB/GYN and 111 General.
Tonsillectomies
Tympanoplasties
Rhinoplasty
Nasal Septoplastys
Thyroidectomies
Hysterectomies
Diagnostic Laparoscopies
Hernia repairs
Hemorrhoidectomies
Open Myotomy
Hydroceles
Burn Scar Revisions
Cleft Lip Repairs
Lipoma Removals
Ear Reconstruction
Open and Laparoscopic Cholecystectomies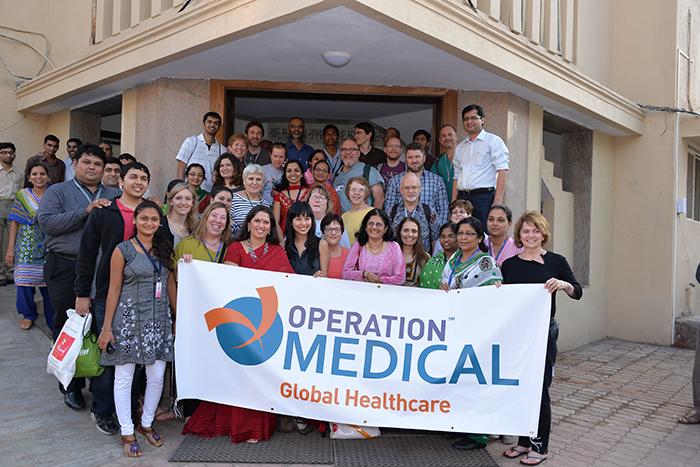 The 32 volunteers from Operation Medical included 10 surgeons, 7 anesthesia providers, 8 nurses and 7 ancillary staff. Operation Medical would like to extend a heartfelt thank you to the team, who with their personal finances and time away from work, home and family gave back to others. They are:
Surgeons
Dr. Ken Arthur – PA
Dr. Joel Dean – WA
Dr. Parul Krishnamurthy – PA
Dr. David Leber – PA
Dr. Jose Misas – PA
Dr. Anuj Parikh – PA
Dr. Bipin Patel – NY
Dr. Justin Rosenberger – PA
Dr. Andrew Shapiro – PA
Dr. Julie Sofer – MI
Anesthesia
Diana Davidson, CRNA – PA
Michelle Duell, CRNA – MD
Sue Miller, CRNA – PA
Dr. William Motter – PA
Dr. Mukul Parikh – PA
Dr. Neelima Parikh – PA
Lori Yakish, CRNA – PA
Nurses
Marybeth Connors – DE
Carol Donahue, RN – PA
Sara Lemley, CRNP – PA
Bansari Mandalia, RN – PA
Sheri Matter, RN – PA
Barbara Mummert, RN – PA
Melissa Natividad, RN – PA
Bonnie Peffer, RN – PA
Ancellary
Suril Amin – PA
Rise' Enoch – PA
Maryland Farretti – PA
Mary Jensik – PA
Binita Mandalia – PA
Pratima Patel – NY
Cheryl Peck – PA
Additionally, the efforts of Operation Medical Board Member and Valsad native KD Patel, Operation Medical Advisory Board Member Kiran Patel, Kasturba Hospital Director Paritosh Joshi, Kasturba Hospital general surgeon Dr. N Desai, the local nurses and hospital staff and other local physicians combined to make this effort such an overwhelming success. We will forever hold this trip as a treasure in our hearts.