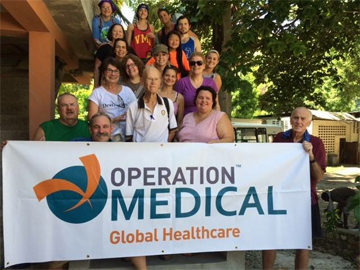 This was Operation Medical's THIRD trip to Hospital Pierre Payen (HPP) and was held from October 21 to November 4, 2015. The team members included a large contingent from New England and under the leadership of Dr. John Judson and Dr. Jeffrey Segil, were able to see 150 patients in surgery clinic and 100 patients in gynecology clinic, a total of 250 patients,
Over the course of the mission trip there were many challenges beginning with crowding and confusion in the clinics as well as the workload for the medical providers! Management was improved by placing a nurse at the front door receiving area and having a nurse practitioner for primary staffing of the surgery clinic. There were also two major infrastructure problems. Electrical supply issues were critical due to the fact that one of the generators failed and the other one was inadequate to provide power to both the medical clinic and the hospital. The hospital rented a large generator to provide power to the hospital including the autoclaves and the air-conditioners in the operating room. In addition to the electricity, the autoclave was problematic because there was a lack of ongoing maintenance and biomedical technicians in Haiti who are familiar with that particular type of autoclave. Since this mission, a new autoclave has been purchased and plans are being made to purchase a new generator.
On a good note, Dr. Judson stated that "the hospital hired a new administrator who is working well with the visiting teams …and in general, when the team arrived, the hospital was clean and there appeared to be an increased number of nurses. We are increasingly dependent upon the Haitian nurses and are finding that working with them is increasingly productive."
Patient Procedures:The team performed 150 surgical procedures during the mission trip which included circumcisions, excisional biopsies, hydrocele repairs, hysterectomies, lipoma removals, uterine myomectomies, and an assortment of minor procedures.
Operation Medical would like to thank the following participants who donated their time, talent and funds attended the mission:
| | | |
| --- | --- | --- |
| NAME | SURGICAL SPECIALTY | |
| | | |
| SURGEONS | | |
| | | |
| Dr. John Judson | General / thoracic | Pennsylvania |
| Dr. John Reidell | General | Pennsylvania |
| Dr. Jeffrey Segil | Gynecology | New Hampshire |
| | | |
| ANESTHESIA | | |
| | | |
| Kenneth Goodhart, CRNA | | Pennsylvania |
| Kim Roderick, CRNA Student | | Pennsylvania |
| | | |
| NURSING  AND TECHNICIAL | | |
| | | |
| Linda Brindle, RN | | Pennsylvania |
| Patricia Crothers, Nurse Practitioner | | New Hampshire |
| Sarah Crothers, RN | | California |
| Chelsea Eugley, Surgical Technologist | | New Hampshire |
| Tabitha Gagnon, Ultrasound | | New Hampshire |
| Charmaine Garner, RN | | Pennsylvania |
| Suzanne B. Harris, RN | | New Hampshire |
| Jenna Mirabelle, RN | | New Hampshire |
| Gerri Shettle, Laboratory | | Pennsylvania |
| Nikki Stocker, Laboratory | | Pennsylvania |
| Jen Stoner, PharmD, Pharmacy/scrub tech | | Pennsylvania |
| | | |
| ANCELLARY | | |
| | | |
| Adam Kramer | 4th Year Medical Student | New Jersey |
| Alix Tan Segil | | New Hampshire |
Dr. Judson stated that "many of the team members had not met until they came to Haiti but quickly became a very well organized and dedicated team.  everyone helped with any task that needed to be done with smiles on their faces."