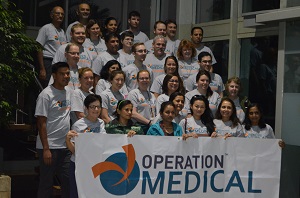 From January 22 to 27, 2017 during a surgical mission trip to Kasturba Hospital in Valsad, India, Operation Medical performed 229 free surgeries, 100 breast cancer screenings and 90 dental procedures changing the lives of not only the patients served, but also the Operation Medical volunteers and the staff of Kasturba Hospital, our surgical camp sponsors and hosts.
Dr. Mukul Parikh, Operation Medical's President recently shared, "Our mission to Valsad in January – 2017 was one of the most productive and rewarding missions from every perspective. Our hosts at Kasturba Hospital had done an outstanding job of prescreening the patients and having a very efficient/coordinated operating room staff for the high number of surgeries we could perform. Of course, their hospitality was superb as always. I cannot express enough gratitude to all the selfless volunteers of Operation Medical who contributed their valuable Time, Talent and Resources towards this endeavor." Plans are underway to return to Kasturba Hospital in January, 2019.
Valsad and Kasturba Hospital
This was Operation Medical's second mission to Valsad which is in the Western Indian state of Gujarat. It lies along the coast of the Arabian Sea and is 120 miles north of the Mumbai airport and per the 2011 census survey conducted by the Census Organization of India, Valsad had a population of 114,987.
Kasturba Hospital is the largest hospital in Valsad. The hospital does not receive help of any kind, nor financial aid from the government, and survives solely on donations. Much like Operation Medical, the Kasturba Hospital is committed to promoting and providing high quality medical care and education to their community.
Mission Details and Participants
Upon arrival at Kasturba Hospital, the Op Med team worked to organize supplies at the hospital as well as conduct patient screenings for procedures. Our gracious hosts and sponsors in Valsad held a welcome ceremony to signify the kick off for the camp as well as a closing ceremony on the last day.
The staff at Kasturba and our volunteers worked extremely well together like they had been together for years. Utilizing the four operating rooms / six operation stations, 229 procedures including 129 General, 55 Gynecology & Obstetrics, and 28 Plastic & Maxillofacial were performed. Patient ages ranged from 7 to 75 years.
The Operation Medical Team conducted an in service for the Operating Staff at Kasturba teaching additional sterile techniques. Additionally, Dr. Nitin Tanna conducted training in breast screening mammography to assist in obtaining the best images as well as demonstrating and instructing the radiologists to perform ultrasound-guided needle biopsies.
Types of Surgeries Performed
Ano-rectal
Breast mass excision / mastectomy
Burn Scar Revision
Cholecystectomy
Cleft Lip Repair
D&C
Hernia repair
Hydrocele excision
Hysterectomy
Hysteroscopy
Gastrointestinal
Thyroidectomy
Tumor Excision
This surgical mission camp would not have been possible without the support of our sponsors, volunteers and the local team at Kasturba Hospital. Over a year in the planning, transportation, accommodations, meals, patient screening and more was executed flawlessly. The local administrative and operational staff was phenomenal. A very special thank you to Mr. K.R. Sheker, managing director of Bayer in India for their generous financial support of 3.6 million Indian Rupees (roughly $45,000) which covered pre-and post-operative diagnostics such as lab and radiology screening and patient care and more.
This exceptional mission camp will be remembered by all as will Diana Davidson, CRNA who we lost in a tragic accident in December, 2016. A tireless volunteer and spokesperson for Operation Medical, we dedicate this mission in her name.
Operation Medical Volunteers
Physicians / Surgeons
Adnan Alseidi, MD Seattle, WA
Kenneth Arthur, MD Lancaster, PA
Katherine Barton, MD Mechanicsburg, PA
Dineshkumar Bhavsar, BDS Canton, MI
Paul Carmichael, MD Mechanicsburg, PA
Hadassah Consuegra Anderson, DO York, PA
Nicholas Gorham, MD Seattle, WA
Parul Krishnamurthy, MD Enola, PA
Jessica Koller Gorham, MD Seattle, WA
Colin Meghoo, MD Fort Smith, AR
D. Marc Northern, MD Pensacola, FL
Kyle Packer, DO York, PA
Bipinchandra Patel, MD Vestal, NY
Jeffrey Segil, MD Dover, NH
Nitin Tanna, MD Lititz, PA
Anesthesia Providers
Carol McAnulty, CRNA Carlisle, PA
Suzanne Miller, CRNA Harrisburg, PA
Theresa Northern, DO Pensacola, FL
Mukul Parikh, MD Mechanicsburg, PA
Neelima Parikh, MD Mechanicsburg, PA
Uma Parekh, MD Hummelstown, PA
Nurses
Sara Bayless, RN Fort Smith, AR
Bonnie Peffer, RN Harrisburg, PA
SaraTribioli, RN Harrisburg, PA
Technologists
Karmae Amsbaugh, Surgical Technologist Carlisle, PA
Jeramiah Middleton, Certified Surgical Technologist Dover, PA
Jennifer Tran, Certified Surgical Technologist Harrisburg, PA
Ancillary
Noah Hindes Philadelphia, PA
Pratima Patel Vestal, NY
Cheryl Peck Lancaster, PA
Ben Segil, 4th Year Medical Student Dover, NH