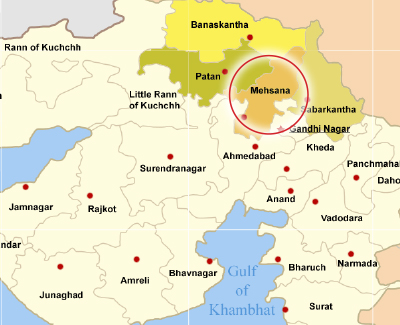 Lions General Hospital located on Jail Road in Mehsan invited Operation Medical to conduct a surgical mission camp. This 250 bed, multispecialty hospital was founded in 1978, and is overseen by the Lions Club of Mehsana Charitable Trust. The hospital also hosts several academic programs for training in various medical fields including a college of physicians and surgeons as well as a variety peramedical curriculum. This busy facility served over 12,000 patients in their inpatient departments last year! You can learn more about the hospital at www.lionshospitalmehsana.com.
The hospital's vision statement, "Committed to provide the quality healthcare needs of the needy and poor patients in North Gujarat & Gujarat Border of Rajasthan" aligns with Operation Medical's mission of "serving communities that do not have adequate access to medical care." A team of about 30 volunteers will leave for Mehsana on January 15, 2015 and perform many surgical procedures for the people in the area. Our volunteers give their vacation time and finances to make the trip. Specialties include General, Plastic, Gynecology, Neck and Throat, and Urology.
Operation Medical's 2015 India Team is packed and team members are already on their way for the week long surgical mission camp which will take place from January 18 – 23, 2015. The long journey will take them about 7,600 miles from home, landing in Ahmedabad and then a 3-4 hour road trip to Mehsana, a municipal city situated in the Mehsana district, which is located in the state of Gujarat. It is located at a distance of 74 km from Ahmedabad in western India. Functioning as the administrative headquarters of the districts, it covers over 4,500 km with 2 million inhabitants, or about 462 people per square kilometer!
The city is known for its local Mehsani breed of buffalos. The Mehsana District Cooperative Milk Producers' Union Ltd., popularly known as Dudhsagar Dairy, is a member of the state-level – Gujarat Cooperative Milk Marketing Federation Ltd., Dudhsagar Dairy is the largest dairy in Asia, processing on an average 1.41 million kilograms of milk each day. It has established a network for procuring milk from 4,500,000 milk producers through 1150 village milk cooperatives.
Much of the population works in agriculture growing Bajra, Indian for Pearl Millet and Jowar, known as Sorghum. Additionally vegetables are grown such as mirch (a type of pepper), mung beans and Jowar, which is the third most important food crop both with respect to area and production. Major trading crops are oilseeds such as cumin, psyllium and anise.
The city is quite important from an Industrial perspective – Mehsana Fields are one of the largest on-shore oil producing assets of the Oil and Natural Gas Corporation headquartered in Dehradun, India. Covering 6,000km, the 28 fields have 1,311 oil wells, 16 gas wells and produce about 5,800 tons per day.
Mehsana has a presence of many major educational institutes. There are over 9 engineering colleges and five pharmacy colleges in the district. Ganpat University, located 10 km from city, offers specializing in areas as IT, engineering, pharmacy, agriculture, science, management, arts and commerce. Additionally there are many primary and higher secondary schools like N.G. International School and Gurkul English medium School the goal of which is to provide the best English education.
The city has several structures of historical significance. One of which is the Rani Udaymati Vav which is an architectural wonder of Gujarat. It is one of the largest step wells of the state. The Vav was constructed by Queen Udaymati in 11th century, in the loving memory of her Husband, King Bhimdeva I of the Chalukya Dynasty. The well is beautifully adorned with 800 stone sculptures and reliefs. One can see the impressive images of Hindu Gods, their incarnations and their consorts. The artistic and architectural majesty of the well is rarely to be seen elsewhere. Another interesting land mark is the Langhanaj Locality. It is an excavation site, where 14 fossilized skeletons and monoliths were unearthed. The locality bears evidence to the life of early man of Langhanaj. It bears close affinity with the East Africans.
Please check back daily for updates 'on the ground' in Mehsana, India.